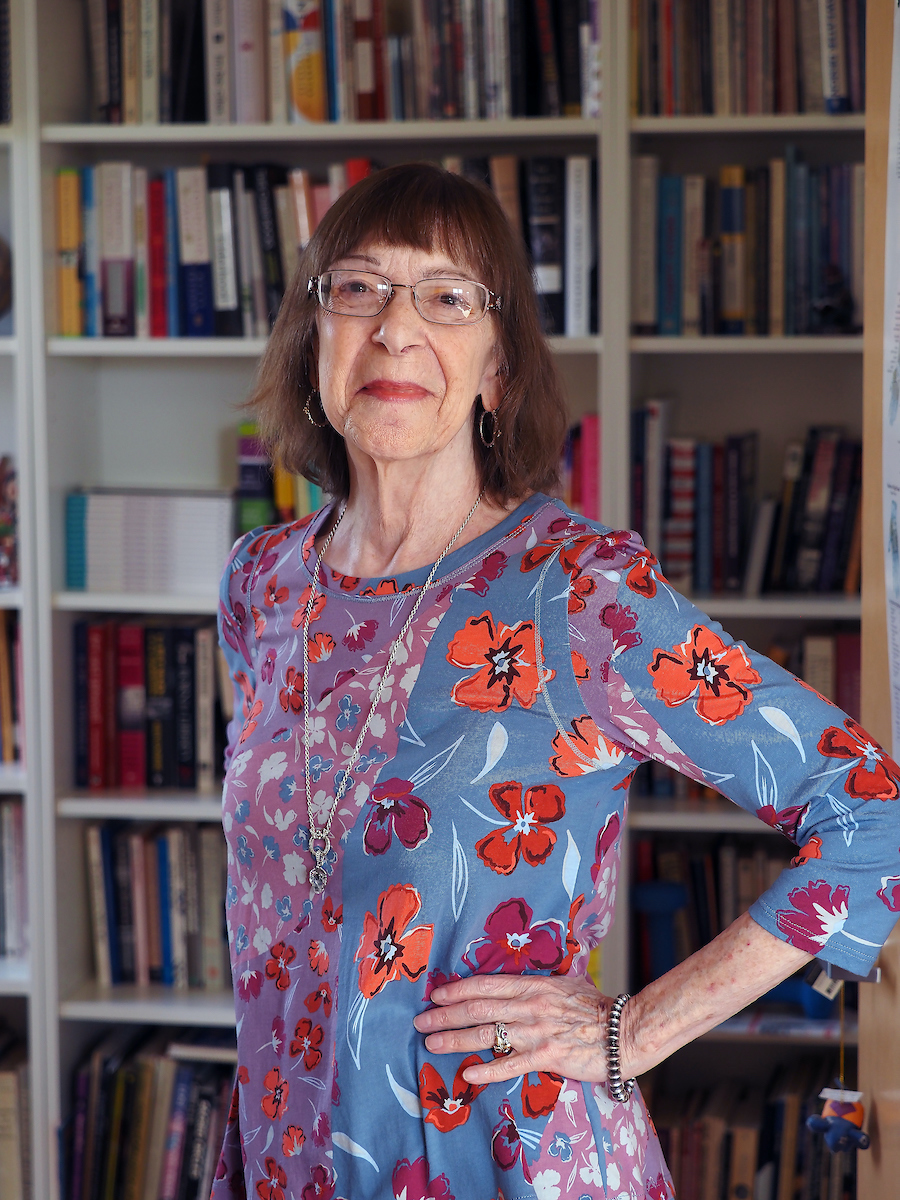 Andrea (Andy) Gilats is a Minnesota writer, educator, artist, and former yoga teacher who holds a Ph.D. in multicultural American studies from the Union Institute and University and a bachelor of fine arts degree in drawing and painting from the University of Minnesota. She spent more than three decades creating and leading lifelong learning programs at the University of Minnesota, serving thousands of adult learners before retiring in 2012. From 2010 to 2018, she also taught yoga to older adults through her community-based teaching practice, Third Age Yoga. She is the author of After Effects: A Memoir of Complicated Grief (University of Minnesota Press, 2022) and Restoring Flexibility: A Gentle Yoga-Based Practice to Increase Mobility at Any Age (Ulysses Press, 2015).
University of Minnesota Career
Andy was the cofounder, and for twenty years the director, of the University of Minnesota's legendary Split Rock Arts Program, an annual series of intensive workshops in the literary and visual arts that featured renowned writers and artists as teachers. During her tenure, she put cultural, racial, gender, and aesthetic diversity at the center of the program by bringing to Minnesota groundbreaking artists and writers of color and pioneering LGBTQ artists, and by offering program participants opportunities to learn culturally specific art forms.
Andy also founded and directed Split Rock Online Mentoring for Writers, an innovative, award-winning online service in which writers worked individually with renowned writer-teachers, as well as American Indian Lives, Lands, and Cultures travel study tours to Native American nations, in which tribal communities shared responsibility for curriculum and teaching with University faculty. In 2007, she founded LearningLife, the University of Minnesota's diverse collection of learning opportunities for people in the second half of life, and in 2010, she cofounded Encore Transitions, a trailblazing, nationally replicated program that takes a holistic approach to preparing for a meaningful life after retirement.
Work as a Writer
Andy's memoir, After Effects: A Memoir of Complicated Grief, traces her deeply personal struggle with abnormally intense and prolonged grief after the untimely death of her husband, ultimately leading her to a profound reconsideration of what might constitute happiness in a life without her beloved partner. In 2020, she was awarded a Next Step grant from the Minnesota State Arts Board's Metropolitan Regional Arts Council to support her work on this book.
Andy has presented and participated in a variety of programs in support of After Effects, including national and international podcasts and a variety of in-person and virtual readings, conversations, and panel discussions for creative writing classes, senior living communities, and community organizations. She served as the September, 2022, featured writer in the Minnesota Humanities Center's Minnesota Writers Series, and she is a writer on tour with the Jewish Book Council.
Andy is also the author of Restoring Flexibility: A Gentle Yoga-Based Practice to Increase Mobility at Any Age, which received enthusiastic reviews from yoga, health, and wellness media outlets, and was recommended in over two dozen articles in newspapers around the country and in radio and online interviews with Andy.
During her university career, Andy wrote numerous articles for arts and academic publications, including a variety of articles on yoga, wellness, and aging. Two of her articles about yoga, "Finding the Right Yoga Teacher: Tips for Third Agers" (2012) and "Coming to Yoga Later in Life: A Personal Story," (2013) were published at Yoga for Healthy Aging, a widely read national blog. From 2009 to 2010, Andy wrote a blog on healthy aging for the University of Minnesota titled When I'm 64, and she was also a regular contributor to Wellness Works, the University's health-related print magazine. 
Work as an Artist
Andy began drawing and painting at the age of one. While completing her bachelor of fine arts degree, she became involved in the feminist art movement of the 1970s, and after founding the Split Rock Arts Program, she was elected to the inaugural board of directors of the Women's Art registry of Minnesota (WARM), one of the country's first feminist art collectives.
An inveterate knitter, in the early 2000s, Andy created a series of original knitted shawls portraying the continents of the world. After the tragic deaths of Senator Paul Wellstone and Sheila Wellstone in 2002, her triangular shawl of Africa and her semi-circular shawl of Central America were exhibited at the University of Minnesota's Goldstein Museum of Design and auctioned at the University's Weisman Art Museum as part of "Sheila's Shawls," a fundraising effort for the Sheila and Paul Wellstone Center Neighborhood House in Saint Paul, Minnesota.
From 2017 to 2018, Andy worked on a series of paintings inspired by her collection of Native American clay figures and kachina dolls purchased during her many visits to Native American communities in the American Southwest. In 2018, these painting were exhibited alongside the original art objects that give rise to them under the title "With My Own Eyes: An Artist, A Collector, and a Detour through Native America" at the Coffman Art Gallery on the University of Minnesota campus.
Vocation as a Yoga Teacher
Between 2010 and 2018, Andy taught hundreds of yoga classes through her Third Age Yoga teaching practice, working with a wide variety of participants ranging from 45 to 98 years old. She taught exclusively in community-based nonprofit settings, including the West 7th Community Center and the Wilder Foundation Center for Aging, both located in Saint Paul. She also gave numerous presentations and demonstrations to health professionals and community members.
In 2014, Andy made two yoga instructional videos produced by the Saint Paul Neighborhood Network, one of that city's nonprofit local access cable television providers. These videos have been viewed more than 360,000 times on YouTube and have garnered positive feedback from viewers around the world.
Everyday Life, Activities, and Passions
Born on July 15, 1945, at Saint Paul's Midway Hospital, Andy has lived all but five months of her life in that smaller, warm-hearted, and, thankfully, harder to navigate of Minnesota's Twin Cities. Since 2007, she has lived in a small, warm-hearted condominium overlooking the Mississippi River near downtown, where the constant river current and profuse natural light assure her joy in being alive each day. She also loves to hit the road, and she has traveled to the western United States dozens of times over the past three decades, especially to New Mexico, where her favorite city is Santa Fe, a place where heaven can be found on Earth. 
She is blessed to be part of a large family, with whom she vacations in Las Vegas; sings, recites blessings and stories, and voraciously eats and drinks at annual Passover seders; and plays mah jongg. Almost more than anything except artmaking and writing, Andy loves to read, and especially enjoys learning about the history of science and medicine, reading memoirs by and biographies of people she admires, and reading fiction, poetry, and creative nonfiction by writers of varied cultural, racial, social, and geographical backgrounds.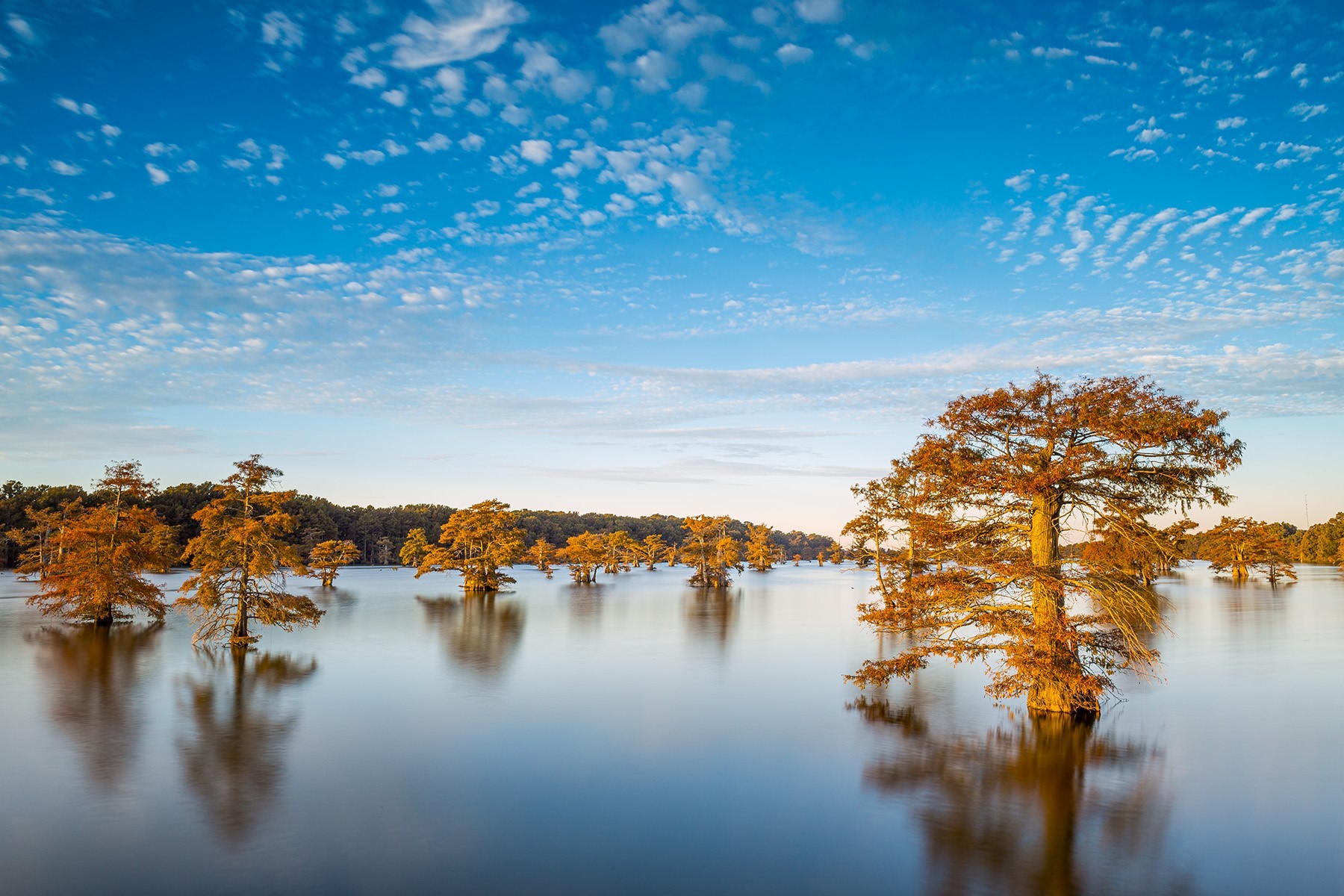 Photographer John Gregor tells us that this abandoned meander was once part of the Mississippi River. After a flood changed the course of the river, this former bend was cut off, creating a self-contained lake. That's why it's called an abandoned meander.