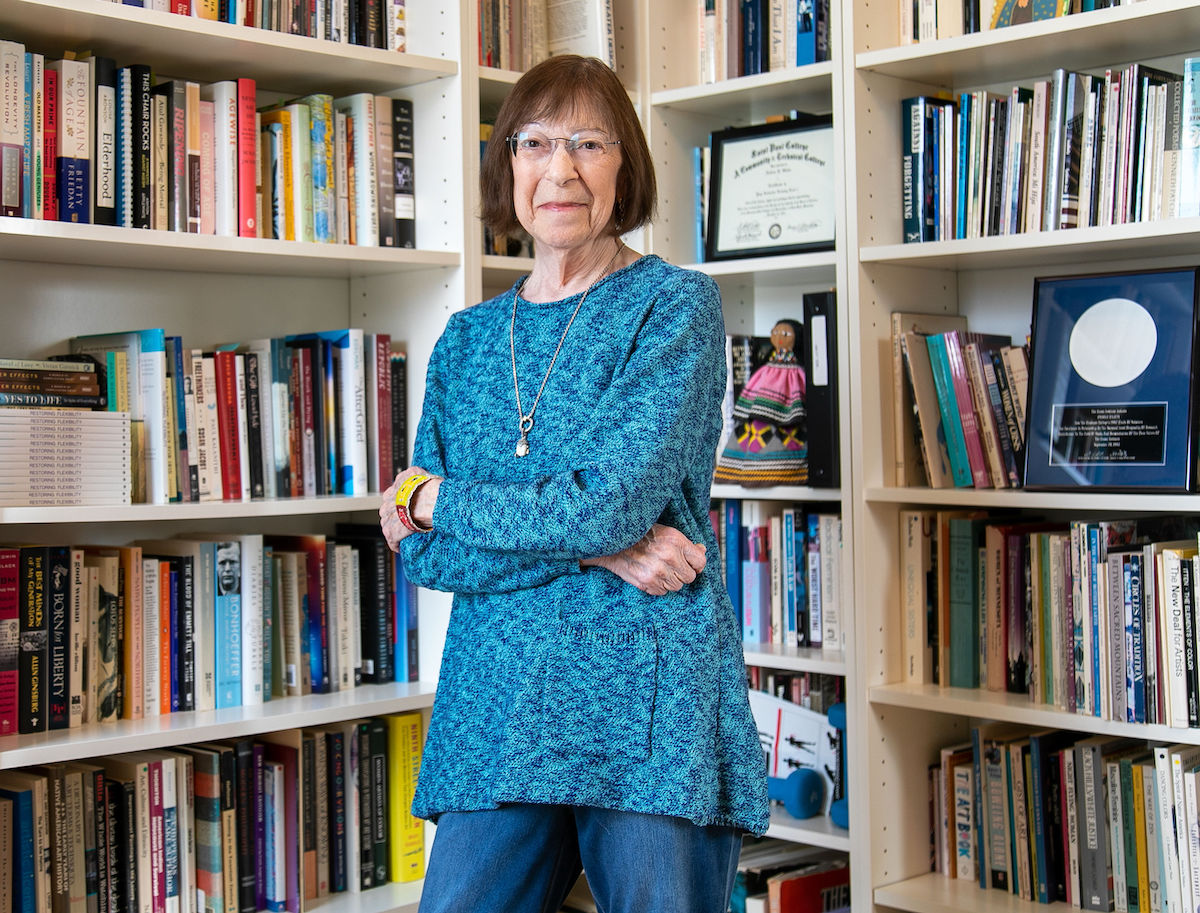 Andrea (Andy) Gilats is a writer, educator, artist, and former yoga teacher who holds a Ph.D. in multicultural American studies from the Union Institute and University and a bachelor of fine arts degree from the University of Minnesota. She is the author of two highly praised books, After Effects: A Memoir of Complicated Grief (University of Minnesota Press, 2022), and Restoring Flexibility: A Gentle Yoga-Based Practice to Increase Mobility at Any Age (Ulysses Press, 2015). Her most recent book, Radical Endurance: Truths and Transformations While Growing Old in an Age of Longevity, is forthcoming from the University of Minnesota Press in 2024.
Andy spent more than three decades creating and leading lifelong learning programs at the University of Minnesota, serving for twenty of those years as the founding director of the legendary Split Rock Arts Program, and later, creating and directing two pioneering programs for older adults, LearningLife and Encore Transitions: Preparing for Post-Career Life. Inspired by that work, she trained to become a certified yoga instructor. From 2011 to 2018, she taught age-appropriate yoga to older adults through her community-based teaching practice, Third Age Yoga. She now devotes herself entirely to her writing.
University of Minnesota Career
Andy was the founder, and for twenty years the director, of the University of Minnesota's legendary Split Rock Arts Program, an annual series of intensive workshops in the literary and visual arts that featured renowned writers and artists as teachers. During her tenure, she put cultural, racial, gender, and aesthetic diversity at the center of the program by bringing groundbreaking writers and artists of color and pioneering LGBTQ artists to the program, and by offering program participants opportunities to learn non-European art forms.
Andy also founded LearningLife, the University of Minnesota's diverse collection of learning opportunities for people in the second half of life, as well as Encore Transitions, a trailblazing, nationally replicated program that offered a holistic approach to preparing for a meaningful life after retirement. These programs allowed Andy to develop an enduring professional and personal interest in health, well-being, and vital engagement in later life, concerns that have become foundational to her writing. 
In 1995, in collaboration with the University of Minnesota's Department of American Indian Studies, Andy also founded and directed American Indian Lives, Lands, and Cultures travel study tours to tribal nations. The program offered opportunities for members of participating tribal communities to create curriculum and serve as teachers in order to develop their tribes' capacity in intercultural tourism. This work grew from Andy's abiding interest in and passion for Native American art, especially contemporary beadwork created for sale to tourists.
Work as a Writer
Andy's most recent book is Radical Endurance: Truths and Transformations While Growing Old in an Age of Longevity, which is forthcoming in 2024 from the University of Minnesota Press. A memoir in essays, Radical Endurance traces Andy's truths and transformations as she enters old age, including the shock of facing her timeworn self; the choking fear of losing her health and with it, her independence; the terror of being vanquished by ageism; the profound pleasure of "growing up again" as she reconsiders transformative experiences from her young adulthood; her awakening as she embraces, once and for all, her later life vocation as a writer; her struggle, at the same time, to come to terms with a past that is longer than she is now able to recall; and her unexpectedly optimistic journey toward contentment as she contemplates her future, ready at last.
Andy's recent memoir, After Effects: A Memoir of Complicated Grief (University of Minnesota Press, 2022) traces her deeply personal struggle with abnormally intense and prolonged grief after the untimely death of her husband, ultimately leading her to a profound reconsideration of what might constitute happiness in a life without her beloved partner. In 2020, she was awarded a Next Step grant from the Minnesota State Arts Board's Metropolitan Regional Arts Council to support this work. 
Andy has presented and participated in a variety of programs in support of After Effects, including national and international podcasts and a variety of in-person and virtual readings, conversations, and panel discussions for creative writing classes, senior living communities, and community organizations. She served as the September, 2022, featured writer in the Minnesota Humanities Center's Minnesota Writers Series, and she was a 2022-2023 writer on tour with the Jewish Book Council. In response to reader feedback, she also created a workshop titled Writing as an Act of Healing, which she offers to lifelong learners online and at community-based venues.
Andy is also the author of Restoring Flexibility: A Gentle Yoga-Based Practice to Increase Mobility at Any Age (Ulysses Press, 2015), which received enthusiastic reviews from yoga, health, and wellness media outlets, and was recommended in over two dozen articles in newspapers around the country and in radio and online interviews with Andy.
Work as an Artist
Andy began drawing and painting at the age of one, and has been making art ever since, whether painted, drawn, or knitted.
In the early 2000s, Andy created a series of original knit shawls portraying the continents of the world. After the tragic deaths of Senator Paul Wellstone and Sheila Wellstone in 2002, her triangular shawl of Africa and her semi-circular shawl of Central America were exhibited at the University of Minnesota's Goldstein Museum of Design as part of "Sheila's Shawls," a fundraising effort for the Sheila and Paul Wellstone Center Neighborhood House in Saint Paul, Minnesota.
From 2017 to 2018, Andy worked on a series of paintings inspired by her collection of Native American clay figures and kachina dolls purchased during her many visits to Native American communities in the American Southwest. In 2018, these paintings were exhibited alongside the original art objects that give rise to them under the title "With My Own Eyes: An Artist, A Collector, and a Journey in Native America" at the Coffman Art Gallery on the University of Minnesota campus.
"Yoga Universe," Andy's large painting of a sky filled with whimsical yoga practitioners is included in the collection of the Hennepin County Medical Center, where it greets patients.
Vocation as a Yoga Teacher
Between 2010 and 2018, Andy taught hundreds of yoga classes through her Third Age Yoga teaching practice, working with a wide variety of participants ranging from 45 to 98 years old. She taught exclusively in community-based nonprofit settings, including the West 7th Community Center and the Wilder Foundation Center for Aging, both located in Saint Paul. She also gave numerous presentations and demonstrations to health professionals and community members.
In 2014, Andy made two yoga instructional videos produced by the Saint Paul Neighborhood Network, one of that city's nonprofit local access cable television providers. These videos have been viewed more than 360,000 times on YouTube and have garnered positive feedback from viewers around the world.