After Effects Highlights
August 18, 2022 @ 6:30 pm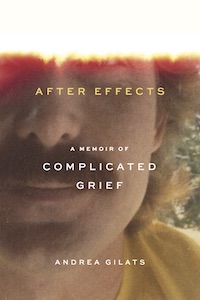 A live online hour of readings and insights from Andrea Gilats's author events
Thursday, August 18, 2022
6:30 p.m. CDT
Join via Zoom, see event invitation below.
All are welcome, no reservation required!
Hear some of the most appreciated excerpts from Andy's recent memoir, After Effects: A Memoir of Complicated Grief. Get a basic introduction to complicated grief (now officially called prolonged grief disorder), including its defining characteristics, its risk factors, and how it differs from normal grief. Learn why grief can vary so much from person to person. Hear what helped Andy heal from prolonged grief and learn about resources to help those suffering from debilitating grief. Offer comments and ask questions.
Event Invitation
After Effects Highlights
Time: Aug 18, 2022 06:30 PM Central Time (US and Canada)
Join the Zoom event with this link:
(You may join beginning at 6:20 p.m. on August 18.)
Meeting ID: 971 7868 2759